Finally getting a chance to mentally unclench a bit, eight days after the Thomas fire started in Santa Paula and then swept west through Ventura and then northwest up the coast to Carp and Montecito. Things heated up fast on the east side of town late Monday night. We were without power for two hours and evacuations happened quickly.
Power came back early Tuesday morning, but I didn't sleep much. The wind died down on my side of town, we couldn't smell smoke anymore, and the city imposed a curfew from 10pm to 5am.
However, the evacuation line hadn't moved any nearer to us than Telegraph, Em drove through smoke to get to school and I was yelling at InDesign for a few hours, so "safe" was an appropriate descriptor.
As of about 9:30 a.m. Wednesday, fire was still threatening the Ojai valley & the coastline to the west, leaving a massive burn scar in the hills between Ventura/Santa Paula & Ojai (NASA image via VCFD):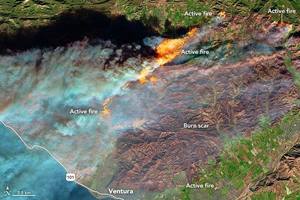 Chéz DuBois was ultimately never under evacuation orders, but we were packed and ready. Some of our friends did leave, and we also know folks who've unfortunately lost their homes.
So this may be trivial, but humor me with some geographic imagery posting. To show the scale of this crazy fire, I've added some place names to air/satellite images from astronaut Randy Bresnik: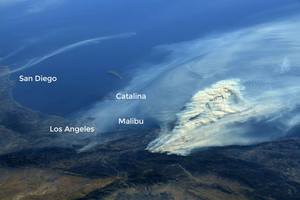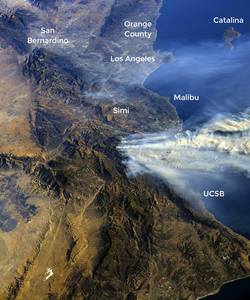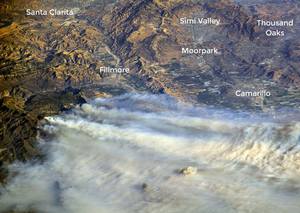 Finally, there was a "Ventura Strong" event tonight at a local brewery that I didn't go to. I genuinely don't know how to feel about stuff like that. I mean, I understand the sentiment, and can take cues from those who've been hit hard by this fire but it's always felt weird to me when "strong" is attached to a city name after violent shootings or terrorist acts (Boston, Vegas etc.) and now it's happening to my city after a natural disaster. I know it's genuine for some people, but it feels superficial to me.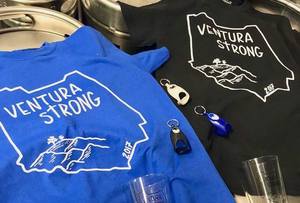 That may sound callous, but between the fire and some other bad news I had last week, I'm not in the mood for cheap and kitschy band-aids.